Business parcel delivery
Open an account and save up to 45% on our parcel rates
Or call us today on 0844 333 222* Save now
*
Calls may be recorded and monitored for training purposes. Local call rates apply. Call costs may vary depending on your service provider
At Data Select, it's crucially important for us to provide our customers with a market-leading service. Throughout our five-year relationship, Parcelforce Worldwide has delivered on our customer promise, securely and reliably.
We receive outstanding levels of customer service and support, making Parcelforce Worldwide an absolute pleasure to work with.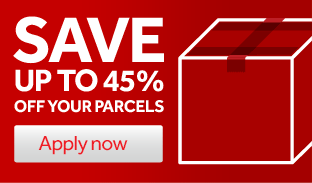 Personal service
Reliability and quality of service are our hallmarks – so you can trust us with your business parcel deliveries. Plus, enjoy a personalised service, thanks to a dedicated Account Manager who's on hand to help you feel welcome and get the most out of your account.
Delivery your way
Parcelforce Select... improves your online experience by offering your customers more business or consumer delivery options than ever. It sends your customers notifications on the day before, the morning of delivery and a one-hour timeslot.
Select…
When

you want us to deliver

Where

you want us to deliver

How

you want us to deliver
Sending overseas
We're experts at home and business parcel delivery overseas – helping you reach more than 99.6% of the world's population. You'll benefit from:
From next working day delivery to

Europe and worldwide

Peace of mind with a full

tracking option

Convenient European and

global returns

Trusted delivery partners
Business parcel delivery
Open an account and save up to 45% on our parcel rates. Or call us today on 0844 333 222* Save now
*
Calls may be recorded and monitored for training purposes. Local call rates apply. Call costs may vary depending on your service provider